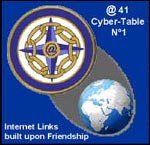 The La @ 41 Cyber-Table 1 is an international virtual union of sites of clubs, with one site per nation. The number one was given because this is the first union.
To be a member of the @cyber table impose some obligations to the webmaster.
He must give in his site a page in English, because the English is the language of the web and it understands by everybody who surfs. That lets a good communication between clubs via sites be.
This page must be composing by the banner of the club, the arms of the city, the Url of the city site, the Url of the club and the address E-mail of the webmaster.
To be a member of the @cyber -table one must have the agreement of the other members of the @cyber-Table.
Long distances separate clubs, but the Web lets easy communications between clubs. The @cyber-Table is a good mean to give good relations between 41 or Ex. Tablers from the all world and let every clubs, by its Webmaster, have good news from 41 Ex; Tablers from foreign countries.
The founder members of @Cyber-Table 1 are the site of Ex. Tablers of Mainz 21 in Germany, the club 41 Rimini in Italy and the club 41 Antibes 130 in France.
We have to thank Peter TAYLOR, webmaster of the ot21mainz who has had this generous idea.